Healing with Reiki
Reiki is a natural and simple healing method which is based on the channeling of spiritual energy. Vitalizing your life force and balancing the energies in your body it heals at many levels - physical, mental, emotional and spiritual. A Reiki treatment feels like a glowing radiance leaving you feeling calm and serene and more able to cope with an ever busier world. It makes you feel more positive and able to take a more balanced view of the world. Recent problems, physical or emotional, can usually be resolved easily and quickly. Problems that have continued unresolved for years take longer to shift, but a course of treatments over several weeks is usually enough to produce long lasting beneficial changes. Whatever the problem, Reiki leaves one feeling better in oneself, having a clearer view of things and more at peace with world.The types of condition that lend themselves to Reiki include:
Sleeplessness
Depression
Low self-esteem
Stress
Anxiety
Emotional turmoil
Feeling unable to cope
Reiki is also effective in dealing with more physical problems such as:
Sports injuries
Back pain
Sciatica
Sprains, cuts and bruises
Post operative healing
M.E.
Low energy levels
Booking a treatment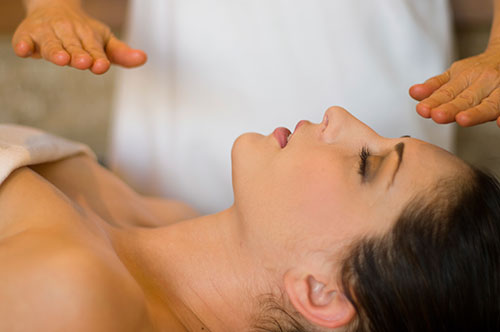 An initial treatment will take up to an hour and a half. This is to allow time for discussion and explanations, as well as the treatment itself. Subsequent treatments last up to one hour. If you would like to know more or wish to book a session you can do so either by email or by contacting John on 01442 263581. We are based in Hemel Hempstead and would normally expect to see you in Hemel. If you wish for a home visit or would like to register for distance healing, then we would be pleased to talk to you about it.
If you would like to experience a treatment
then contact
John Puczynski on 01442 263581
or
johnpuz@innerlight.co.uk
Reiki Workshops
Contact us for the latest dates
The Reiki I or Reiki 'First Degree' workshop takes place over 2 days. The amount of knowledge, experience and practice required in opening up to Reiki and feeling confident in using Reiki means that we prefer to work with small groups and attune and teach our practitioners over 2 days. Workshops are run both during the week and over weekends to best suit your own arrangements. We are happy to travel to anywhere in the UK or abroad to teach Reiki on the basis that sufficient people attend the course and that a suitable venue is provided. Please contact us if you wish to discuss possible arrangements.As well as receiving four attunements, which open up the channels through which the Reiki energy flows, you will be taught hand positions for healing with the patient in both sitting and lying down positions. Time is allowed for practising treatments as well as how to give self-treatments and how to use Reiki in meditation and healing plants and animals. The ability to channel Reiki energy developed over the course of the workshop will stay with you for life. The history and traditions of Reiki will be covered as well as the practical aspects of working with clients. In addition, the causes and nature of illness are discussed together with practical experience of the effects of Reiki on patients. The course is accompanied by an attractive certificate and a comprehensive manual together with suggestions for further reading.The fee for Reiki I is £95. If you would like to book on a workshop, phone or email for current dates.
Forthcoming Reiki One Courses:

Next Reiki 1 Course 25/26 August 2019
Reiki II or Reiki 'Second Degree' workshops also take place over 2 days. Learning the symbols required and experiencing and sharing the new energies that come with Reiki II are a key part of this workshop. Learning the Reiki II symbols, being attuned, and being given insights into the possibilities of each symbol is accompanied by practical exercises in getting to use the new energies. Each workshop attendee is given an attractive certificate, a comprehensive manual, and suggestions for further reading.The fee for Reiki II is £120. If you would like to book on a workshop see the current dates below. Please check on availability prior to booking. Details of local accomodation can be provided if required.
Forthcoming Reiki Two Courses:
Contact us for the latest dates
Reiki Masters
If you wish to take Mastership with me we will need to have a chat with you to establish your experience and background. Our Mastership courses are by special arrangement.Courses usually take place at weekends. From time to time courses are arranged to take place during weekdays.
Contact us for the latest dates